Dirty Skunks Presents
KADILNICA OF DEATH
Metal nights every 1st and 3rd Thursday in the month
from October to July at 21h in Orto Bar!
Metal music with theme nights and song requests!
Special prices of drinks, billiards, and table football!
Presentations of new metal albums and other projects!
Concert once a month!
KADILNICA OF DEATH @ FACEBOOK
kadilnicaofdeath(at)gmail.com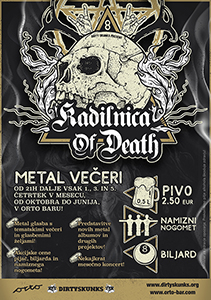 Special events schedule:

Next season starts in autumn.

Mini menu: KOD | Orto Bar | Concerts | Membership | Flea Market | Specials


KADILNICA OF DEATH
After the last season of Diabolical Fabrka Hours we, the Dirty Skunks, have decided to move our metal night to a more decent venue. Kadilnica Of Death (Smoking Room Of Death) is the name for metal nights that are held in Orto Bar every 1st and 3rd Thursday in the month. The party starts at 21h (when the bar opens) and can last as long as until 4h (when the bar closes), depending on the visitors' interest. There is no entrance fee!
The location of metal nights is right in front of you when you enter Orto Bar. It has a long bar, a cute smoking room, quality sound system, and a fair number of tables and chairs.
In addition to various DJs with diverse repertoire of metal music we will also offer various theme metal nights, including the traditional pre-New Year's Eve party and afterparties of concerts that might take place on the same date in Ljubljana or in the vicinity. Song requests are of course always welcome, as long as they are in accordance with the theme of the night in question. You can also look forward to presentations of new domestic albums and other metal related projects.
On metal nights in Orto Bar you will also be able to purchase tickets for Dirty Skunks concerts at pre-sale prices!

ORTO BAR
Orto is a professional and decent bar/night club. All those of you, who, like us, have observed Fabrka Club deteriorate into a dump with sadness in your eyes, can look forward to metal nights in a tidy ambient with clean tables, chairs and sanitations, and pleasant personnel.
To keep the place in order, there are some bouncers, who have a very fair and correct approach to the customers, as long as they don't go too far. For that matter, the rules on metal nights are pretty much standard: don't be too rowdy, don't break stuff, don't steal, don't smuggle your own drinks, don't do drugs in the toilet... For smoking purposes there is a pleasant smoking room (of death), but (by law!) you cannot bring your drink inside with you. You can, however, drink and smoke outside, but in that case you have to pour your drink into a plastic cup.
Right next to the smoking room there is a game area with billiards and table football for those who wish to have additional fun during metalizing, however, it is prohibited to put drinks on the game tables.
Orto Bar usually has an obligatory wardrobe policy (except leather cothing), however, that does not apply to metal nights in Kadilnica Of Death (it is, however, still obligatory in other parts of the club, including the concert hall).
As mentioned, Thursday metal nights also offer you drinks at special prices (see below).

CONCERTS
In addition to all the fun, approximately once a month Kadilnica Of Death will also organize a concert of a domestic band, which will take place in the concert hall on the upper floor, where there will also be drinks at special prices. The entrance fee for the concerts will be a standard of 6 € with free tickets for those with a membership card (see below). Before, during, and after the concert the metal night will of course be going on undisturbed in Kadilnica Of Death. If there is a concert held in Orto Bar, which is not organized in the framework of Kadilnica Of Death, the entrance fee will most likely be different!

MEMBERSHIP CARDS
We've prepared another special offer for the Kadilnica Of Death concerts - membership cards. The membership fee is 18 €, and counts as the entrance fee for all the concerts (at least 10) in the current season, that is until July. You can get you membership card at the Orto Bar bar anytime it's open. After paying the membership fee you will receive your personal number, which you have to submit (verbally or just showing your membership card) alongside a personal ID card on the day of the concert to the Orto Bar cashier, in order for him to check you on the list of our members and give you your free ticket (you don't need to carry around your membership card, it's enough to just remember your number). The number of embership card limitation is (currently) at 50.
Attention! If there is a concert held in Orto Bar, which is not organized in the framework of Kadilnica Of Death, the membership cards do not count!

METAL FLEA MARKET
Approximately once a month Kadilnica Of Death will hold a Metal Flea Market, where you will be able to choose from a variety of merchandise, sold by your metalhead colleagues. If you are a foreigner and wish to participate in the Metal Flea Market by selling your own merchandise, please contact us so we can provide you with instructions in English. For the moment the instructions have only been published on this page in Slovene.

SPECIAL PRICES
Drinks:
- Bernard light (bottle, 0,5 l) = 2,70 €
- Bernard dark (bottle, 0,5 l) = 2,70 €
- Union (draught, 0,5 l) = 2,50 €
- Union Pils (can, 0,5 l) = 1,90 €
- Laško (draught, 0,5 l) = 2,50 €
- Laško Export Pils (can, 0,5 l) = 1,90 €
- Juice Vodka (0,03 l vodka + juice) = 2,00 €
- Jaga Cola (0,03 l Jagdtraum + Coca-Cola) = 3,00 €
- Irish Spritzer (0,03 l Jameson + Coca-Cola) = 3,00 €
- Rock Cola (2x 0,03 l Jameson + Coca-Cola) = 5,00 €
Games:
- billiards (one hour) = 2 €